Reduce energy consumption and drying time
Drying is a key step in preparing feedstocks, such as wood chips, for biofuel processing. However, drying often incurs substantial energy usage and costs.  
Through careful research and testing, Forest Concepts has been developing both dryers and dryer control technologies designed to reduce residence drying time and energy consumption by more than half. The result is significant operational cost savings.
Key benefits of our dryers:
Maximize yields and improve feedstock utility
Control temperature and air flow with PLC-touchscreen interface and remotely with mobile app
Scalable for your project's needs
Relocatable and stationary models available
We can also retrofit advanced air and controls to your existing dryers.
Let us know
how we can assist with your project today.
Read more about our drying technology: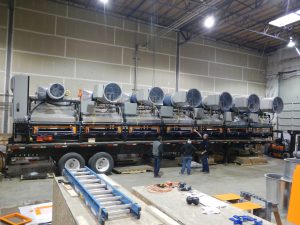 The American Society of Agricultural and Biological Engineers (ASABE) has named Forest Concepts' Hemp Dryer Model 1 winner of a 2021 AE50 Award for Innovation. AUBURN, WASHINGTON, UNITED STATES, January 13, 2021/EINPresswire.com/ —AE50 awards honor the year's most innovative designs
Read More »