Modular Relocatable Advanced Downdraft Dryer
Moves to your harvest or biomass sources
Currently under development, our Modular Relocatable Advanced Downdraft Dryer is being designed to reduce drying time, consume less energy, and have the flexibility of being relocated to move from site to site. The dryer was awarded a 2021 AE50 Award for Innovation.
Key Features:

Raw-harvested woody and herbaceous biomass loads directly onto screen-bottom trays that move through 6 drying zones finished by a cooling zone.
Temperature and air flow are easily controlled to ensure even drying of all material.

Removes up to 900 pounds of water per hour.

Dried material moves to a supersack filling station for storage or directly to extraction facility.

Control the mechanical, drying, and cooling system through an "Intelligent Controls" PLC touchscreen interface on the dryer or remotely via an app.
Dryer comes mounted to a highway-legal 48-ft flatbed trailer. It can be unmounted and installed at your facility.
Can be configured to suit your project's needs.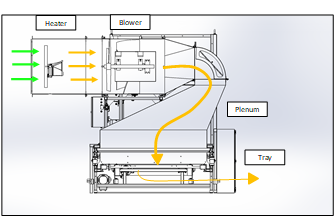 | | |
| --- | --- |
| Heat Capacity: | 6.5 million btu/hr |
| Fuel: | Propane (80 gph max. fuel flow) |
| Electrical: | 460v, 3ph, 350 amp service |
| Controls: | Siemens "Intelligent Controls" PLC with Touchscreen Interface |
| Drying Stages: | 6 |
| Cooling Stages: | 1 |
| Tray Dimensions: | 6′ X 6′ X 1′ |
| Trailer: | USDOT 48′ Flatbed |
| Transportable: | 1 day each to disassemble and reassemble |