In 1998, four co-founders launched Forest Concepts. They saw an opportunity to invent and manufacture environmental restoration products that used small diameter timber and other non-saleable woody biomass.
ELWd
™ Structures: Our First Product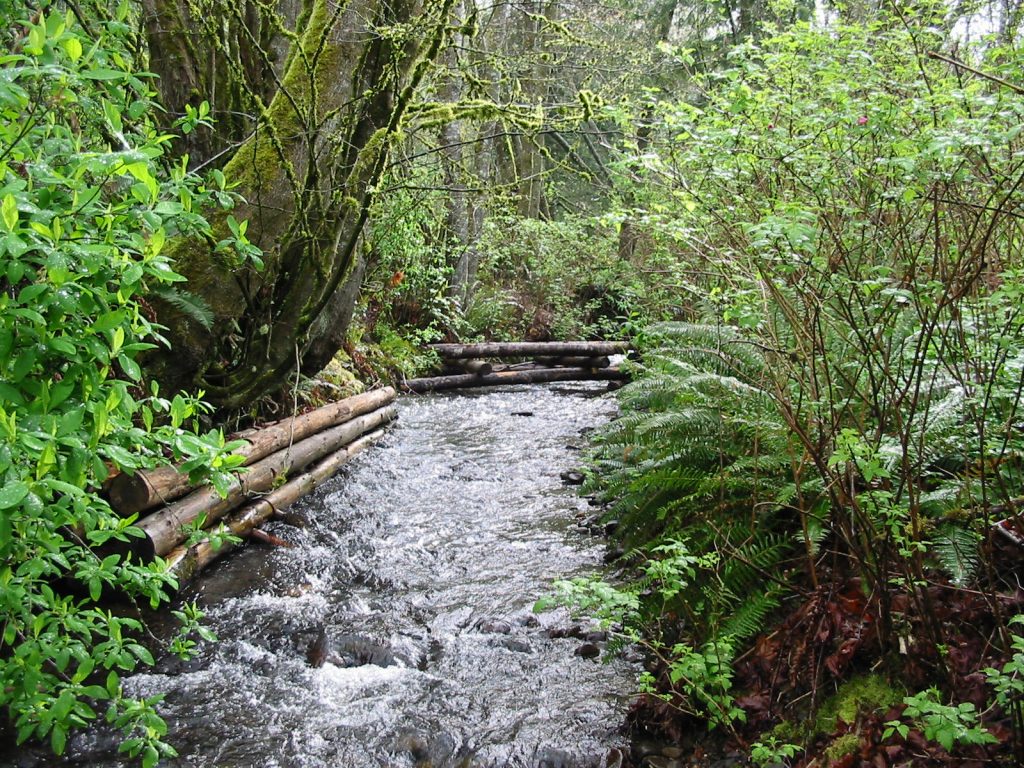 For our launch product, we engineered large woody debris to improve salmon habitat restoration. These ELWd™ (pronounced "el-wood") structures used readily available wood materials, low-tech manufacturing methods, and work-crew-based installation.
ELWd™ habitat and bioengineering products were rapidly adopted across the Pacific Northwest for salmon habitat enhancement, spotted owl food chain support, and wetland amphibian habitat. The way these structures work is simple: they mimic functions of native woody debris and downed logs. In forests and wetlands, these are commonly used by wildlife for habitat.
WoodStraw
®: Environmentally-Friendly Erosion Control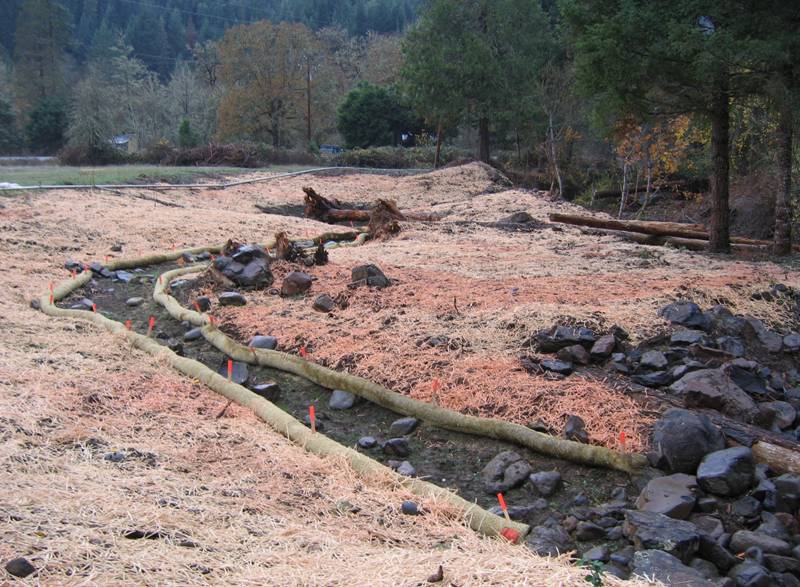 As we worked with wildland restoration specialists, we identified another need: erosion control materials. While agricultural mulch is often used, it is not long lasting or wind resistant, and can contain weed seed.
Forest Concepts' proposed wood-strand solution was awarded a research contract by the USDA. The science behind WoodStraw® was developed in a collaboration with the USFS Rocky Mountain Research Station in Moscow, ID under funding from the Forest Service and the USDA-CSREES-SBIR program.
After four years of research and development, WoodStraw® wood-strand mulch's effectiveness was proven through laboratory and field studies that resulted in peer-reviewed publications. WoodStraw® materials are not only more effective at erosion control than agricultural mulch, it does not introduce noxious weeds, pesticides, or non-native materials to wildlands.  
Commercially released in 2005, WoodStraw® erosion control material is designed for use in fire rehabilitation, wildland construction, watershed restoration, and more.
Entering the Bioeconomy with Baling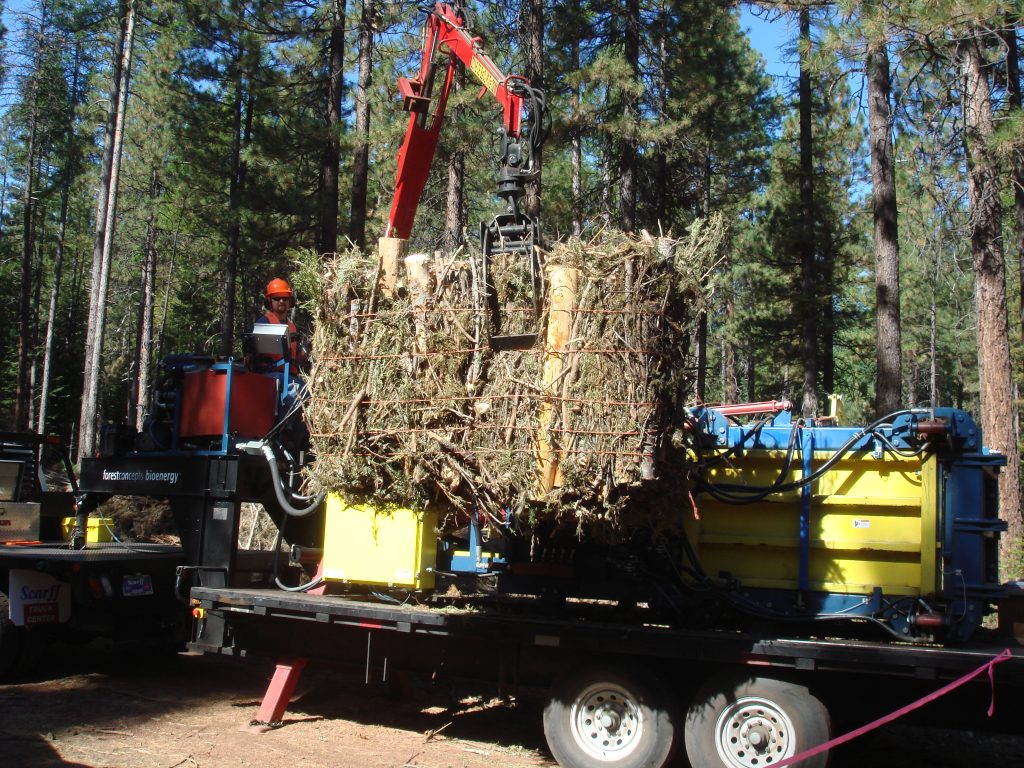 As our WoodStraw® program was moving from research and development to commercialization, the second Bush administration launched a major federal initiative to develop biofuels from cellulosic feedstocks. DOE and USDA leaders encouraged Forest Concepts to submit proposals to address the problems of collecting, processing, and converting forest and urban biomass into energy. 
In 2005, we were awarded a USDA SBIR contract to analyze the problem of collecting and delivering urban woody biomass to distant bioenergy facilities. In our experience with developing WoodStraw®, we knew that if we could bale urban and suburban arborist prunings, they could be handled just like cardboard, newspaper, and other recyclables.  Replacing woodchippers with balers would improve worker safety and reduce noise and dust pollution.
We were awarded with a Phase II USDA SBIR contract in 2006 to develop the science and engineering design data to enable baling, handling, and transportation of cellulosic biomass. By early 2008, we completed construction of a street-legal prototype biomass baler. The solution is scalable; our baler technology can produce high density bales of agricultural residues and dedicated energy crops.
Crumbler® Rotary Shear: Superior Comminution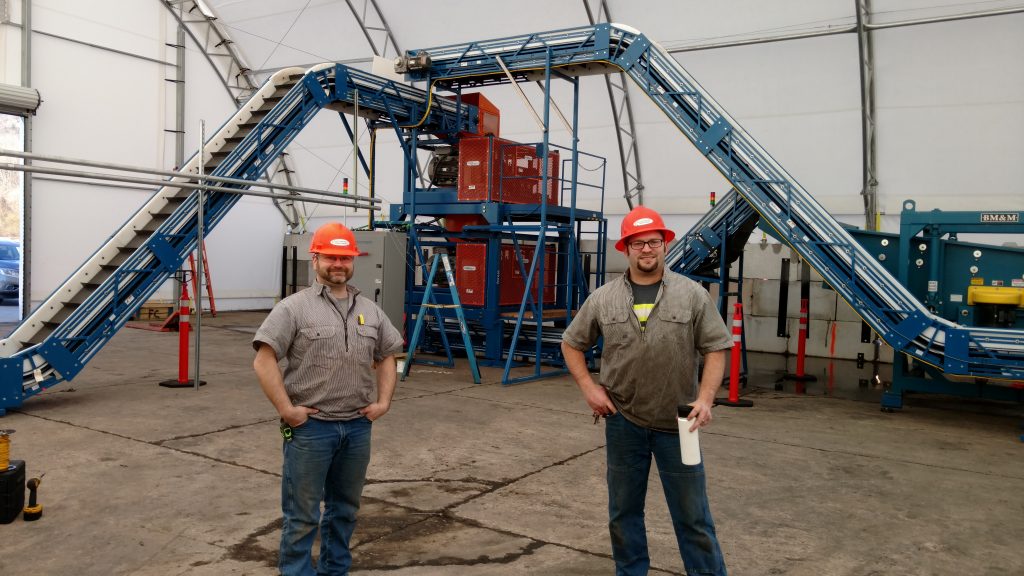 In 2012, the Department of Energy awarded us a contract to develop a low-energy solution to turn woody biomass into sizes and shapes ideal for conversion to biofuels. Through their experience and collective know-how, our team of engineers came together to find an answer to the problem the bioeconomy was facing. 
Protected by several patents, the Crumbler® rotary shear system addresses issues other size-reduction methods raise. It can process materials of any moisture content, produces uniform and flowable particles, results in less fines, all while using minimal energy.
Advanced Drying: Another Biomass "Big Deal" Problem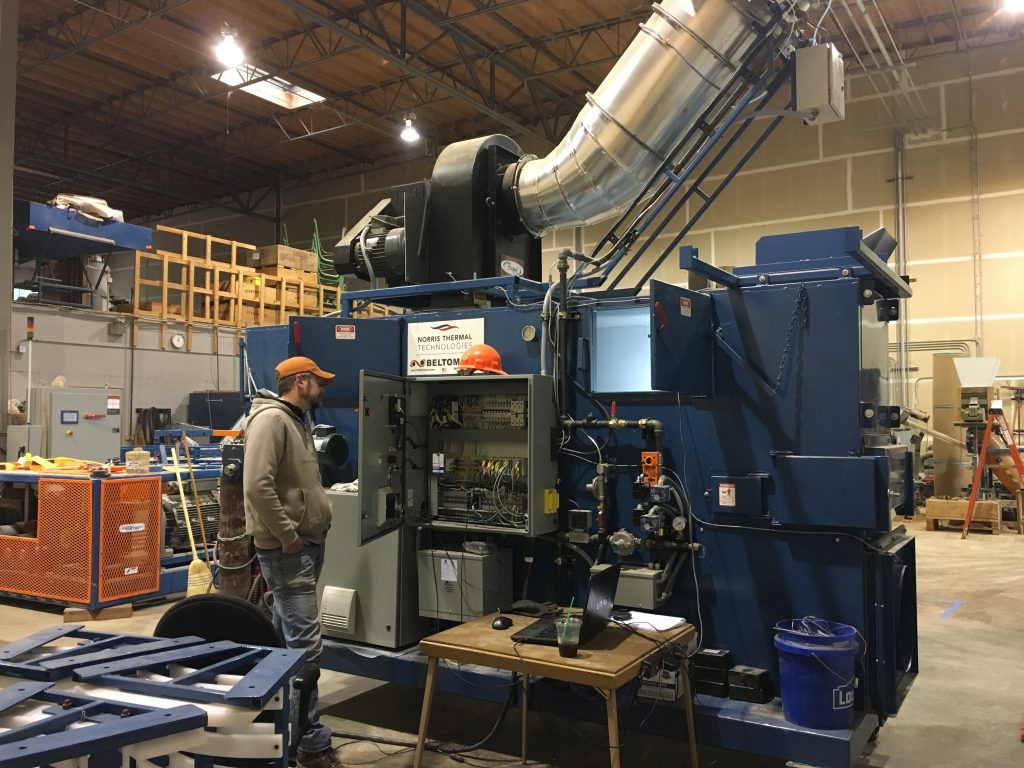 In recent years, our engineers have been tackling drying which is another biomass "big deal" problem. In fact, drying accounts for roughly 70% of the total energy used in pellet mills that use raw wood chips as their feedstocks. Additionally, most dryers in biorefineries require heavy operator interaction and a learning curve of about 5-10 years. Besides this, dryer operations contribute greatly to carbon dioxide emissions. 
Through an USDA NIFA SBIR award, Forest Concepts seized the opportunity to develop advanced drying controls tailored uniquely to biomass feedstocks. The result has been increased throughput, reduced operator demand, reduced energy consumption, and reduced carbon emissions. Our solutions include both dryers and advanced controls, which can be retrofitted to existing dryer systems. 
We combined all of what we have learned about the science and control of drying into a new type of dryer we call a modular downdraft incremental moving bed dryer. This innovation further reduces drying energy consumption, minimizes drying time, and enables use of very low drying temperatures. 
In July 2020, the US Department of Energy, Advanced Manufacturing Technologies Office awarded the Forest Concepts development team a new contract to apply RF preheating to dryers used in cold climates to further reduce drying time and energy. 
Our team of engineers continue to explore additional applications for our drying technologies including hemp, MSW, hops, and herbs.
Forest Concepts and the Future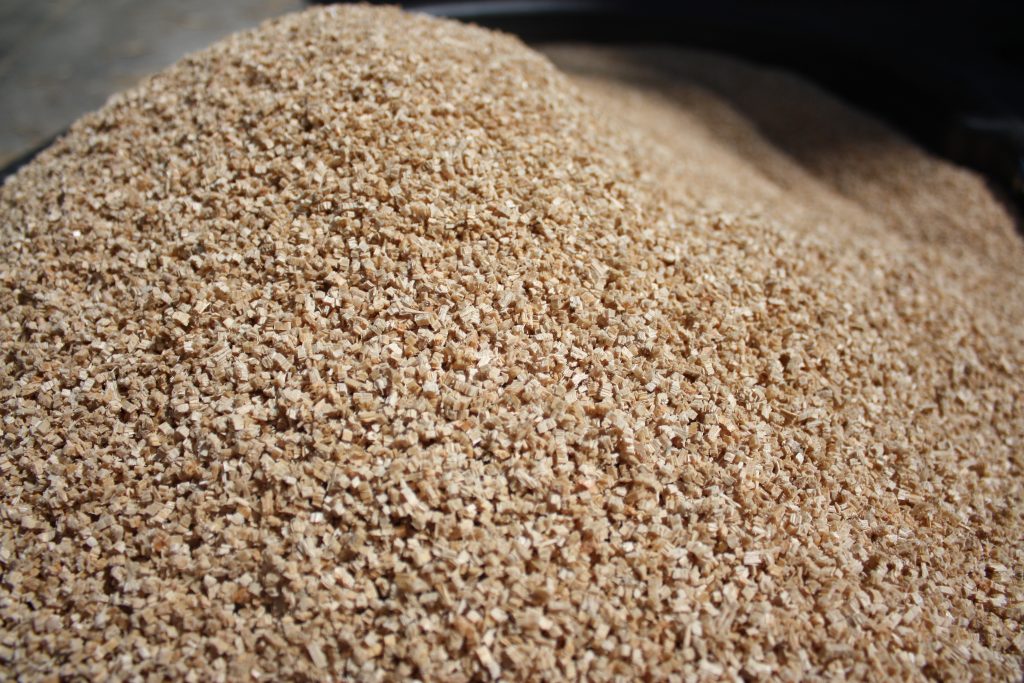 The bioeconomy will continue to grow, and we at Forest Concepts are prepared to grow with it. We are poised to expand and apply our technologies, equipment, and solutions to more problems and more industries.
In all we do, we aim to leave a legacy of making the world a better place through sound science and disciplined design.