Save Costs and Improve Feedstock Quality
Size reduction is a key processing step for feedstocks. Traditional methods include hammermills, grinders, and chippers. However, these methods typically are either limited to producing ½" and larger particles or require pre-drying of biomass at a substantial energy cost. Additionally, these methods may produce large amounts of fines with wide particle distributions and poor flowability.
Forest Concepts developed the Crumbler® rotary shear to address these common problems and produce a superior result.
Key Benefits:
Processes any moisture content – no pre-drying necessary
Scalable for both small & industrial-scale operations
Tested on many materials – wood, recyclables, corn stover, hemp & more (see the complete list)
Results in evenly shaped highly-flowable particles with less fines
Efficiently produces particles as small as 1mm
Quiet performance – our in-house experience demonstrates that Crumbler® operates at 85 db versus traditional hammermill at 110-120 db
Low carbon footprint (learn more)
100% manufactured in the USA
We are pleased to offer our Crumbler® rotary shear in a range of models to suit your project.
Each of our Crumbler® models can be customized as needed.
Not sure which Crumbler® model is right for you? One of our engineers can help –
just ask
.
Designed for optimal particle size reduction. Required for all Crumbler® rotary shear machines.
Related Items to Consider
Read more about our Crumbler® technology: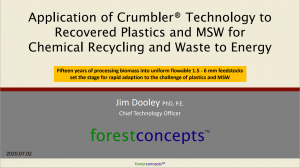 Abstract  Crumbler® rotary-shear technology from Forest Concepts is the solution to produce high quality feedstocks. This short presentation explains some of our emerging work in applying this patent-protected technology to recovered plastics and MSW for chemical recycling and waste to
Read More »